I won't lie to you. I'm not a particularly "bakey mum". I only trundle out the flour and mixing bowls once every few weeks, when my 23 month old daughter is particularly grumpy and it takes the promise of baking some cakes to calm her.
So the cute kids bakeware items sent to me by Dunelm Mill have remained untouched until today.
And, the thing is, it's too hot to use them for what they are designed for. At least, it was today. Who wants to be stuck in a boiling kitchen when it's shady and cool in the garden?
So we cheated. And I love cheating. Because cheating means no flour on the floor, no congealed egg on the worktop and no sweating over a hot stove.
Cheating means letting your toddler loose with a baking tray, some dried macaroni, a wooden spoon, spatula and sillicone muffin cups and tray. And sitting back to relax while she whips you up some "cake" in the comfort of the garden.
And who knew empty muffin cases made such great stacking cases? I love that Frog is now at an age where she's beginning to explore her imagination.
I can just sit back and watch while she gets involved in her own game, until she inevitably decides she's had enough and wants to "PAINT!"…

***
Disclosure: These products were sent to me for the purpose of this review.
I'm linking up this post to see it, snap it, love it at Dear Beautiful Boy who's asking for our moments in time this week. This afternoon will forever be remembered as the one Frog first played an imaginary game of cooking.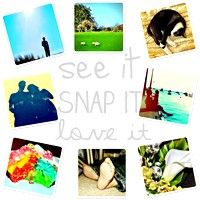 19 Responses to How to bake without baking